The 'Gucci' of Hair Extensions at Bliss Hair – Racoon International

If you are looking to add some length and thickness to your hair then why not visit Bliss – the best hair extensions salon in Nottingham. An official Notts stockist of Racoon hair extensions our Nottingham hairdressers are experts in hair extensions. With a variety of hair extension fitting methods, our expert stylists will find the perfect look to suit you.
Racoon International is the unrivalled hair extensions market leader in the UK and is regarded as the best hair extension system all over the world.
From an instant fringe, sharp bob or luxurious long hair, Racoon extensions can totally transform your image. Indeed, nearly all celebrities with longer hair wear hair extensions. Cheryl Cole, Kate Moss, Nicola Roberts, Angelina Jolie, Danni & Kylie Minogue, Sophie Anderton, Jade Jagger and Denise Van Outen are just some of the A-listers who have enhanced their look by wearing extensions.
ACCREDITED EXTENSIONISTS AT BLISS
Only accredited stylists at Bliss who gain the relevant certification are allowed to apply Racoon Bonded and Micro Weft hair extensions. This will ensure that your hair is in safe hands.
Applying hair extensions requires real skill so it is vital to get the job done properly. Racoon International supply us with hair extensions education programmes that are in a class of their own. Quite simply, no other hair extensions company can offer us the diversity and quality of our educational partnership with them.
The latest Racoon hair extensions collection enables the team at Bliss to use extensions to create a brand new you in as little as two hours, without commitment to a permanent change. They are easy to apply and easy to remove, so contact us to arrange to speak to your Racoon accredited Bliss hair extensionist for a consultation today..
After you have had your hair extensions applied, we recommend you use the Racoon-Xtend aftercare range enabling you to cleanse, condition, style and maintain your hair extensions whilst simultaneously caring for your own hair.
RACOON BONDED HAIR EXTENSIONS
Racoon's clear bonded system allows your own hair to be safely blended and lengthened.
The award-winning system is scientifically proven not to damage hair thanks to a unique bond – non-allergy material – which leaves no trace or residue. The hair is applied over two to four hours, but can last up to six months with regular maintenance appointments.
The bonds contain natural products, such as pine kernel and orange peel extracts – they are translucent and about the size of a grain of rice. As they take on the colour of your own hair, the bonds are virtually invisible.
Our extensions are available in Euro Hair, Everyday and Standard Hair.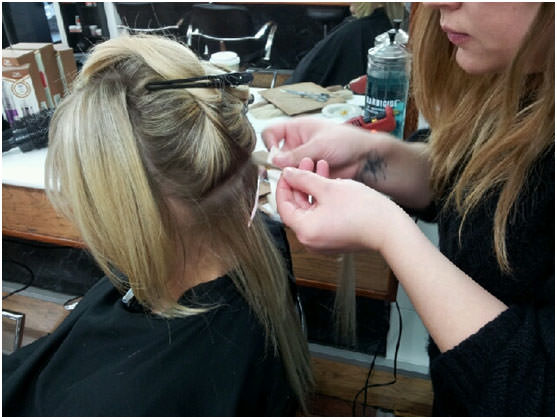 RACOON MICRO WEFT HAIR EXTENSIONS
Micro Wefts have a fine, flexible micro tape, making them discreet to the eye and one of the safest systems available on the market. They have small tapes that are attached to the hair and are very comfortable to wear.
Applied in around an hour, weft hair extensions are perfect as temporary hair extensions, for weddings, parties and special occasions.
They can last for up to 4 weeks – after which we can remove, recondition and retape.
The premium quality human cuticle hair we use for each weft is root point correct, with the cuticle intact.
Also available in Everyday Hair.
RACOON CLIP IN HAIR EXTENSIONS
These are affordable extensions that come in full sets and packs of two. Each option is offered in 100% human hair and Next to Natural -depending on your requirements.
Bliss Bonded Hair Extensions – Before – During – After
RACOON HAIR EXTENSIONS PRICES
We will design a bespoke package for you based on your requirements. Package prices vary, but can start at around £100.
Full head application packages including very long blonde finest European hair can start from around £400.
All prices are given on consultation only depending on your needs. Our BLISS full head hair extension package includes everything you need to ensure you get the very best from your hair extensions.
Correct removal is a must as is maintenance & aftercare. Many of our regular customers & staff wear extensions. Our main concern is to ensure you receive the best attention at all times using only products & service suitable for your hair.
We will recommend an alternative system for you if we feel a particular method is not suitable for your hair.
Other costs may include the re-application of any lost extensions and blow dry lessons if required which include advice on maintenance & aftercare.
Comprehensive aftercare leaflets are issued & advice is always available. If we feel your hair is unsuitable for this service we will tell you.
To find out more either email or telephone us with your contact details & we will arrange for one of our qualified extensionists to call you back to discuss your requirements.
RACOON ACCREDITED EXTENSIONISTS AT BLISS:
LOUGHBOROUGH – KERRY & EMMA
SISTER BLISS – LIAM
NOTTINGHAM – SARAH
BLISS EUROPEAN BONDED HAIR EXTENSIONS – FROM £250
At Bliss Hair we understand the ever changing needs of our clients and have worked hard to source the very best products and services at the best price we can offer. We have spent the last few months on a mission to lower our hair extension prices without sacrificing the quality that Bliss customers have come to know and love.
After extensive research into hair suppliers, we believe we have found the best ethically sourced 100% human European hair for our bonded hair extensions. We compared many different types of hair across all price ranges and believe our new hair to be the most luxurious quality of its kind. Bliss bonded hair extensions boast a luxurious quality of hair that is shiny, soft, thick, and tangle free. Our research and comparison into hair extension prices and the calibre of different types of hair, has allowed us to source natural hair extensions of exceptional high quality at high street prices!
14″ bonded hair extensions are available from just £250 and 18″ from £295.
The following stylists are trained in the new Bliss bonded hair extensions and can advise you on the correct length, number of bonds and hair extension styling for you as an individual.
Check out this video to find out more about bonded hair extensions:
---