Travel Sized Product Sale!
Rescue lightened hair from yellow or brassy tones with Osmo Super Silver Shampoo - Travel Sizes available for just £3.95!
International hair colour experts, Wella, ran a creative balayage workshop for our team of young stars so we can give you a even more BLISS-ful service!
Perfect Hair Brushes from Moroccanoil
We have a new range of Moroccanoil hair brushes in stock so we can find a brush that suits your hair type and style you want to create.
Fabuloso Pro Colour Enhancing Treatment
Fabuloso Pro Colour Enhancing at Bliss Hairdressing in Nottingham and Loughborough Haven't heard of Fabuloso Pro yet? At Bliss Hairdressing Salon we are now stockists of Fabuloso Pro from Evo, the new colour enhancing take home hair conditioner and deep treatment in one! [getLocationsLinks] Revive, intensify and maintain your gorgeous hair colour in between hair colour appointments with a custom blended bottle of Bliss colour intensifying conditioner, choosing from repair or condition...
BABYLISS PRO PERFECT CURL AT BLISS HAIRDRESSING
From longer lengths to shorter styles, no matter what your hair type, the Babyliss Pro Perfect Curl Styling is available at Bliss Hairdressing to create beautiful long lasting curls every time! The Babyliss Pro Perfect Curler is one of the most exciting innovations in hairdressing for a number of years and gives amazing results leaving clients feeling gorgeous!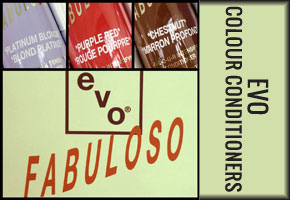 Our new take home colour is 'FABULOSO'!
The revolutionary conditioning, styling and finishing oil.
We use Evo haze styling powder on dry hair to add volume and texture when our clients tell us that their hair is suffering from the flop...
Evo root canal
 – base support spray
We use Evo root canal
, a weightless root lift spray, to build body and texture into our client's root area...